RV Park Septic Pumping Phippsburg, Maine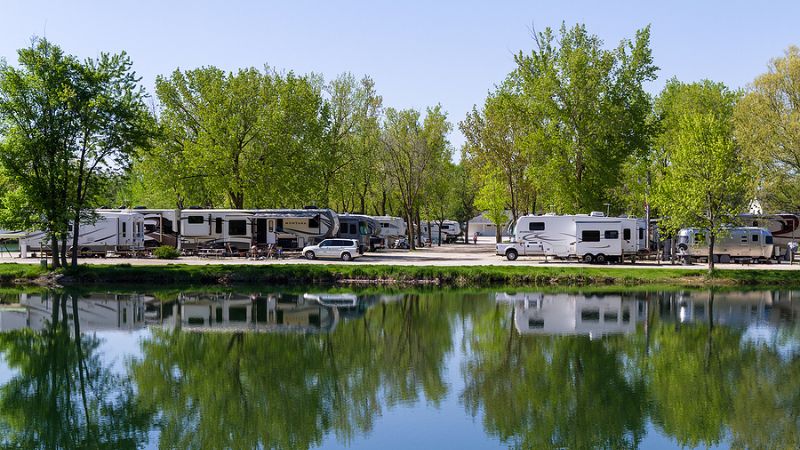 Septic Pumping For RV Parks & Campgrounds
RV parks commonly rely on septic systems to handle all of the effluent and waste water created by both long-term tenants and short-term weekend campers.  With each RV stall usually having it's own sewer hook ups, and the average RV holding tank being 35-80 gallons or larger, you can see how quickly the sewage can build up within the system.  RV parks can have multiple septic tanks, multiple septic fields, or very large septic holding tanks that regularly need to be pumped of solids.
Maintaining your septic system at an RV park or campground is essential to the smooth operation of your business.  You will protect your septic fields, prevent foul odors from giving your guests an unpleasant time, and ensure your system continues to operate trouble-free.
C&C Construction and Septic Services is a vacuum truck company that specializes in pumping out septic tanks of all sizes.  We are based out of Phippsburg, Maine and serving Sagadahoc County and the surrounding area.  Whether you need a septic tank pumped as part of your regular system maintenance, or because of a septic system emergency, C&C Construction and Septic Services can help!
RV Park Septic System Services We Offer:
RV park septic tank pumping
RV park septic system inspections
RV park septic video inspections
Pumping Out Septic Systems For RV Parks Can Be Challenging
Pumping out RV park septic systems can present several challenges due to the unique nature of these facilities and the variability in demand on their septic systems. Some of the common challenges we face while pumping out RV park septic systems include:
Access to tanks: RV parks can have more than one septic tank scattered throughout the property, and some may be located in areas that are more to difficult access. Tight turns, narrow roads, and obstructions like trees or parked RVs can make it challenging for our pumping truck to reach the tanks.
Inconsistent usage patterns: As RV parks often experience fluctuating visitor numbers, the wastewater flows can be inconsistent, making it difficult to establish a regular pumping schedule. Over- or underestimating the required pumping frequency can lead to system overloads or unnecessary expenses.
Lots of waste: RV park septic systems often receive wastewater with higher concentrations of solids, fats, oils, and grease than typical residential septic systems. This can lead to more frequent pumping requirements and challenges in managing the disposal of the pumped waste.
Seasonal fluctuations: RV parks may experience high demand during peak seasons and low demand during off-seasons. You need to choose a septic pumping company that is prepared to handle increased pumping needs during peak seasons while also managing their resources during off-seasons.
Multiple system types: RV parks may have various septic system types, including holding tanks, conventional systems, or advanced treatment systems. Each system type requires a different approach to pumping and maintenance, which can be challenging for pumping companies to manage.
Environmental regulations: Pumping companies must adhere to strict environmental regulations when pumping out RV park septic systems, including proper disposal of the pumped waste. These regulations can be complex and vary from one municipality to another.
Time constraints: RV parks may require pumping to be done during specific hours or days to minimize disruption to their guests. This can pose scheduling challenges for pumping companies.
C&C Construction and Septic Services understands the unique needs of pumping septic systems for RV and mobile home parks.  If you own or manage an RV park or mobile home park that uses septic to treat your wastewater, call on the name you can trust to handle your septic services.  C&C Construction and Septic Services is ready for your call!
If you need to have your RV park or campground septic system pumped out please call (207) 751-3715 or fill out our online contact form and we will get back to you promptly to schedule a time to inspect and repair your septic system.